Meet the Team
Jennie Fuller
President/ Head Trainer
In September 2005, Jennie Fuller became a certified Police K9 Instructor and Professional Obedience Trainer. This certificate includes, professional obedience and behavior modification, police patrol, narcotics and explosives detection, man trailing and SAR.
She personally trained and handled k9 Massima (German Shepherd) for man trailing/SAR.
They completed 40 hours of trailing/tracking/cadaver/ and air scenting at an EMS work shop in Virginia.
They also trained with the REDS SAR team located in Garner.
Jennie personally trained and handled Belgian Malinois, k9 Lester, for narcotics detection.
She is a certified CGC evaluator.
Her dog, Bogie, (Boxer/Pit) is a certified CGC that's currently training for his NW1 title.
Jennie is also a member of the Association of Pet Dog Trainers
Fostered for Independent Animal Rescue, and the Australian Shepherd Rescue. *Peoples love and awareness of their dogs' need for structure and exercise has allowed Jennie to follow her passion of training dogs and educating the community.
Personally trains and handles K9 Chesni and K9 Lapua in Man Trailing.
Steve Clevenger
Kennel Manager
Born in Newark, Ohio
Joined the Marine Corp in 1993
While in the Corp he received the National Defense Medal, The Good Conduct Medal, and the Navy and Marine Corps Achievement Medal
He was a Firearms Instructor
Member of the Nuclear Weapons Team
In 1998 he became a Correctional Officer in which he supervised State Inmates and worked as an Officer-in Charge supervising staff and inmates.
He was an Unarmed Self-Defense Instructor
Maintenance Officer
In 2013 Steve started his own Furniture Restoration business
He noticed Top Dog open just a few doors down from where he lives and had to apply because he loves dogs. Steve has been an invaluable part of the Top Dog Team since April 2016.
Adam Hrvatin
Training Manager
Adam served 4 years active duty in the Marine Corps and was honorably discharged in 2004 at the rank of Corporal. During his service, he received the Global War On Terrorism Expeditionary Medal and the Global War on Terrorism Service Medal, the Armed Forces Expeditionary Medal, the National Defense Service Medal, and the Marine Corps Good Conduct Medal.
He was certified as an IDD Canine trainer after completing a 14-month apprentice program. Adam has four years of experience in training off-leash Improvised Explosive Detection Dogs with the capabilities of directional control and whistle commands. He was involved in two-week training classes with the dogs and their handlers before they were deployed to Afghanistan and Iraq. Adam also has experience working with several universities in many research projects ranging from physical conditioning, dog selection, and scent detection capabilities. Adam has experience training service and emotional support dogs for Veteran Affairs contracts in which the dogs are paired with veterans diagnosed with PTSD.
Adam has traveled across the country and in Europe to select and procure dogs required for various contracts. He has had the pleasure of evaluating problem dogs for local rescue groups and providing behavioral training to allow the dog to be placed in a home.
Patricia Mojca
Kennel Tech/ Play Supervisor
Prayag Singh
Assistant Trainer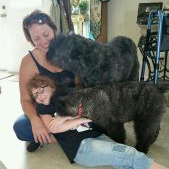 River Newcomer
Kennel Technician