Jennie Fuller
President/ Head Trainer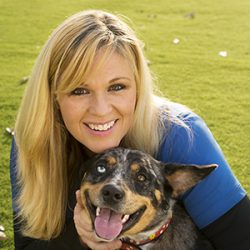 2005, Jennie Fuller became a certified Police K9 Instructor and Professional Obedience Trainer. This certificate includes, professional obedience and behavior modification, police patrol, narcotics and explosives detection, man trailing and SAR.
2005 She personally trained and handled k9 Massima (German Shepherd) for man trailing/SAR.
They completed trailing/tracking/cadaver/ and air scenting at an EMS work shop in Virginia which Jennie attends each year
2005 became a REDS SAR team member located in Garner.
2005-19 participates in search parties for missing people and/or dogs
2005 Jennie personally trained and handled Belgian Malinois, k9 Lester, for narcotics detection.
2005 became a certified CGC evaluator.
2006- currently Fosters for Independent Animal Rescue
2006 Bogie, (Boxer/Pit) is a certified CGC that's currently training for his NW1 title.
2015 Assisted in designing and developing Top Dog Training and Resort
2015 became a member of the Association of Pet Dog Trainers and International Association of Canine Professionals
2016 Personally trained and handled K9 Chesni in Man Trailing.
2016 Personally trained/ certified and handles k9 Lapua in Man Trailing- currently in training to certify for Air Scenting/ CGC certified in 2019
2016 Trains her k9's with local police departments
2017 Personally trained and certified k9 Judge in Man Trailing
2017 Raised and trained 2 litters of Czech/Slovakian line German Shepherds
2018-19 Lead Top Dog Training to win the Readers Choice Best Boarding Facility Award
2018 Attended a Tactical Emergency K9 Seminar
2019 TR Wilderness Certified
2019 FEMA certified
2019 Appeared in Episode 05-K9 Search and Rescue video which aired on UNCTV
2019 Developing a non-profit to rescue and retire senior dogs
. *Peoples love and awareness of their dogs' need for structure and exercise has allowed Jennie to follow her passion of training dogs and educating the community.
Ashley Eisenbuchner
Lead Boarding School Trainer/ Private Lessons Instructor/ Group Training Instructor
Born and raised in South Florida.
At age 13, began volunteering for a local nature center that rescued and rehabilitated
wildlife.
Volunteered at the local animal hospital in the Pet Care department while in high school.
2014 started job at the animal hospital while attending Florida Atlantic University.
2016 Graduated from Florida Atlantic University with an A.A. degree.
2016 Relocated to North Carolina to explore new opportunities.
2017 worked at Good Day Doodles whelping roughly 20 litters of Australian
Labradoodles.
2018 Began working at Top Dog as a Kennel Attendant/Day School Trainer.
2018 Promoted to Day School Leader
2019 Promoted to Boarding School Leader
2019 Attended Tarheel Canine in to obtain Professional Trainer certification.
Lead Trainer for Boarding School students/ Private Lessons/ Group classes/ and loving every minute of it!
Specializes in young puppy behavior and development/ reading dog behavior in group play/ and fearful dogs
Currently training her Lab mix rescue dog (Dot)
Garrett Dalfrey
Boarding School Trainer/ Private Lessons Instructor/ Group Training Instructor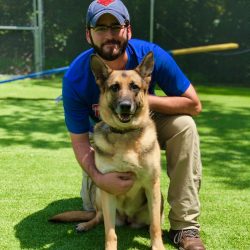 Born in Livonia, Louisiana
Raised and trained hunting dogs all of his life
2009 volunteered at the Baton Rogue Zoo and worked with the elephants and large cats
Joined the Army in 2012
While in the Army he graduated at the top of his Basic Training Group, receiving the Certificate of Achievement, the Global War on Terror ribbon, the National Defense Service ribbon, and the Army Service ribbon.
He was a Combat Medic
Volunteered in the training of future Combat Medics
In 2013 he became an EMT
He received the EMS Life Saver Award in 2014.
2019 Joined Top Dog Training and Resort as a Day School Trainer and was quickly promoted as a Boarding School Trainer /Private Lessons Instructor/Group Classes Instructor
Specializes in dogs with high drive
Currently training his personal dogs, Leia (English Golden Retriever) and Clark (German Shepherd)
Steve Clevenger
Kennel Leader
Born in Newark, Ohio
Joined the Marine Corp in 1993
While in the Corp he received the National Defense Medal, The Good Conduct Medal, and the Navy and Marine Corps Achievement Medal
He was a Firearms Instructor
Member of the Nuclear Weapons Team
In 1998 he became a Correctional Officer in which he supervised State Inmates and worked as an Officer-in Charge supervising staff and inmates.
He was an Unarmed Self-Defense Instructor
Maintenance Officer
In 2013 Steve started his own Furniture Restoration business
He noticed Top Dog open just a few doors down from where he lives and had to apply because he loves dogs. Steve has been an invaluable part of the Top Dog Team since April 2016.
Juan Agudelo
Day School Trainer
Boarding School Intern
Born in Newark, NJ
Lived in FL for 4 years before deciding to move to NC
Got his first rescue , Rhea (pit mix), in August 2020 and quickly became enamored with dog training in pursuit to give his dog a better life.
In the process of training he realized his passion for dogs and left behind his career in banking to start working at Top Dog Training and Resort in May 2021
Juan has since worked with a variety of dogs at Top Dog. He has a high drive to learn and excel in the dog training industry.
Passionate about working with rescues and aggressive dogs
Teresa Bowman
Day School Leader and Boarding School Intern
Teresa was born and raised in Piedmont, North Carolina. She grew up having pets in the home and has been a pet lover her entire life. This love for animals led her to foster, rehabilitate and rehome rescue cats, kittens, dogs and puppies.
At age 19 she trained her personal dog Blue, an American Pitbull Terrier in basic obedience and some advanced obedience.
2010 Teresa completed the medical coding and billing program at Vance-Granville Community College.
2016 began pet and house sitting
professionally where she gained experience whelping, raising and training a litter of chiweenie puppies, caring for sick and elderly pets and training other dogs in basic obedience, housebreaking and trick training over the years.
2018 decided to fully dedicate her life to working with animals and began working as a kennel tech/doggy day care counselor at a local Dog Boarding Facility. She was quickly promoted to kennel supervisor and had oversight of up to 15 kennel techs and up to 200 dogs at a time of all breeds, ages, sizes and temperaments, as well as temperament testing dogs to determine eligibility for participation in doggy day camp and to determine their appropriate play group.
The experience of handling many untrained dogs in boarding and doggy day camp inspired her to pursue dog training full-time. She began independently educating herself, taking online webinars and watching as many dog behavior and training lectures from professors and renowned dog behaviorists and trainers as she could in her free time.
2021 currently training her own personal dog Aya, a two-year-old Cane Corso puppy mill rescue in advanced obedience, trick dog training and is currently working to title Aya as a Canine Good Citizen.
2021 joined the team at Top Dog Training and Resort as a Day School Trainer. Her passion for dogs and attention to detail, quickly earned her a promotion to Day School Leader. Teresa is now in training to become a Boarding School Trainer.
Sharon Vidal
Day School Trainer
Boarding School Intern
Born and Raised in nc
Passion for care and handling for dogs
Worked at pet resort prior to Top Dog
Worked as an assistant mobile dog bather
Began working at top dog.
Became dayschool trainer
Currently training to become certified dog trainer and pursue lifelong career
Currently training personal dogs
Austin Peters
Day School Leader
Boarding School Intern
Born in Durham, NC
Raised hunting dogs as a child
Joined the Army in 2017 as a combat engineer, where he was stationed in Fort Hood, Texas.
Honorably discharged in 2021 and moved back home to his hometown, Hillsborough NC.
Started working at Top Dog in summer of 2020 as a day school trainer. Is now a day school leader training to become a boarding school trainer.
Currently has three dogs he's constantly taking on adventures, Micky, Soni, And Chewie.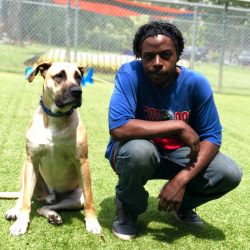 Dominique Jacobs
Day School Leader
Olivia Bennett
Day School Trainer/Kennel Tech
Brittney Kennedy
Dog Bather/ Customer
Service Representative
Greisa Vasquez
Shuttle Driver
Nyisha Arnette
Day School Trainer
Ally O'Hare
Day School Trainer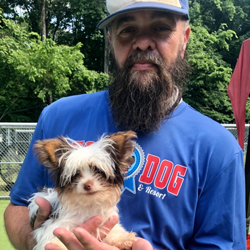 Jay Tuck
Shuttle Driver/ Turf Maintenance