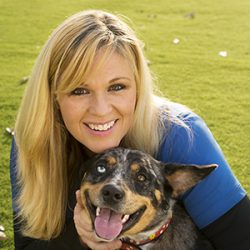 Jennie Fuller
Owner/ Lead Trainer/ Certified Police K9 Instructor and Professional Obedience Trainer
2005, Jennie Fuller became a certified Police K9 Instructor and Professional Obedience Trainer. This certificate includes, professional obedience and behavior modification, police patrol, narcotics and explosives detection, man trailing and SAR.
2005 She personally trained and handled k9 Massima (German Shepherd) for man trailing/SAR.
They completed trailing/tracking/cadaver/ and air scenting at an EMS work shop in Virginia which Jennie attends each year
2005 became a REDS SAR team member located in Garner.
2005-19 participates in search parties for missing people and/or dogs
2005 Jennie personally trained and handled Belgian Malinois, k9 Lester, for narcotics detection.
2005 became a certified CGC evaluator.
2006- currently Fosters for Independent Animal Rescue
2006 Bogie, (Boxer/Pit) is a certified CGC that's currently training for his NW1 title.
2015 Assisted in designing and developing Top Dog Training and Resort
2015 became a member of the Association of Pet Dog Trainers and International Association of Canine Professionals
2016 Personally trained and handled K9 Chesni in Man Trailing.
2016 Personally trained/ certified and handles k9 Lapua in Man Trailing- currently in training to certify for Air Scenting/ CGC certified in 2019
2016 Trains her k9's with local police departments
2017 Personally trained and certified k9 Judge in Man Trailing
2017 Raised and trained 2 litters of Czech/Slovakian line German Shepherds
2018-19 Lead Top Dog Training to win the Readers Choice Best Boarding Facility Award
2018 Attended a Tactical Emergency K9 Seminar
2019 TR Wilderness Certified
2019 FEMA certified
2019 Appeared in Episode 05-K9 Search and Rescue video which aired on UNCTV
2019 Developing a non-profit to rescue and retire senior dogs
. *Peoples love and awareness of their dogs' need for structure and exercise has allowed Jennie to follow her passion of training dogs and educating the community.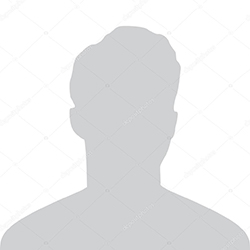 Shawnessy Reaugh
General Manager
Danielle Walker
Cert. Dog Trainer/ Instructor- Boarding School Manager
Born and raised in Pennsylvania yet settled in North Carolina as an adult
Always had dogs growing up which is where her passion for dogs came from.
Her love for dogs led her to foster a dog from the Burlington animal shelter
2022 joined Top Dog as a Boarding School Intern and was later promoted to the Boarding School Manager
2022 was the Employee of the Month
2022 attended Dog Training School to become a certified Pet Obedience Instructor
Ronni "Sharon" Vidal
Cert. Dog Trainer- Day School Manager
Raised in NC
Always had a Deep passion for care and handling of dogs
2019- Prior experience as a mobile assistant dog bather
2021- Started working at Top Dog as a day school trainer
Promoted to boarding school trainer
2022- Attended and Completed a Course to become a Certified Professional Dog Trainer at Tarheel Canine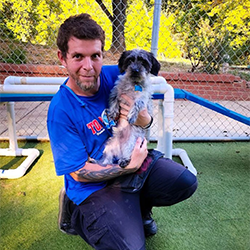 Jason Brenneman
Kennel Manager
2018 entered the dog training field at Upstate Academy in Greenville, SC
4 years' experience in Puppy Foundation Training, Beginner and Intermediate K9 Trainer, taught group classes, and private in-home classes.
2020 attended and completed Pakmasters e-collar course
2020 promoted to Head Trainer at UAD
2022 August moved to Hillsborough and joined the Top Dog team as a kennel technician
2022 October promoted to Boarding School Intern
2022 November employee of the month
2023 February promoted to Kennel Manager
Greisa Vasquez
Transportation Manager
Born and raised in Puerto Rico. I
2017 I moved to North Carolina looking for a better future for my son Dylan.
I enjoy having fun with my family, watching movies, and having a relaxing time with my dogs Wind and Rocket.
May 2021, I found my perfect job at Top Dog. My shuttle dogs are like my step dogs and I love riding with them.
Employee of the Month twice.
2021 Employee of the Year and was promoted to Transportation Manager.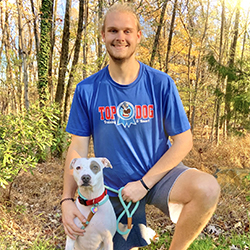 Clay Watkins
Boarding School Trainer
Grew up around animals and dogs my whole life and started training friend and family dogs in 2020.
Volunteered at Orange County animal shelter
2017-2021 Dog sitter/walker
2017 Played basketball at Guilford College
Volunteered at Paws4People foundation
Took classes in the Assistance dog Program at the University of North Carolina at Wilmington.
Worked at top dog since 2020 as a Day school leader and Boarding school trainer.
Employee of the Month 4 times at Top Dog
Ronni "Sharon" Vidal
Boarding School Trainer
Raised in NC
Always had a Deep passion for care and handling of dogs
2019- Prior experience as a mobile assistant dog bather
2021- Started working at Top Dog as a day school trainer
Promoted to boarding school trainer
2022- Attended and Completed a Course to become a Certified Professional Dog Trainer at Tarheel Canine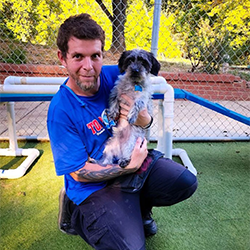 Jason Brenneman
Boarding School Intern
2018 entered the dog training field at Upstate Academy in Greenville, SC
4 years' experience in Puppy Foundation Training, Beginner and Intermediate K9 Trainer, taught group classes, and private in-home classes.
2020 attended and completed Pakmasters e-collar course
2020 promoted to Head Trainer at UAD
2022 August moved to Hillsborough and joined the Top Dog team as a kennel technician
2022 October promoted to Boarding School Intern
2022 November employee of the month
2023 February promoted to Kennel Manager
William Suarez
Day School Trainer
Robyn Joines
Kennel Leader
Sean Spells
Day School Trainer
William Suarez
Day School Trainer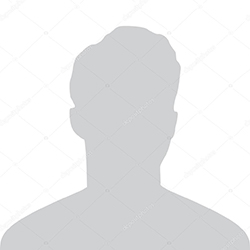 Whitney O'Brian
Customer Service Assistant Manager
TRANSPORTATION SPECIALIST
Greg Lake
Transportation Specialist