Dog Day School Hillsborogh NC
At Dog Day Care, Hillsborough, we help bring a positive change to your dog's behavior and habits with love, attention, patience, and loads of doggy treats!From dog boarding to training and grooming, we do it all!
Top Dog Training and Resort is your one-stop solution for all your dog care needs.
Our Doggie Day Care and Boarding
Need to go on a trip but worried about leaving your dog behind unattended? Can't take care of your furry friend during the day because of responsibilities?
Have your best friend spend time with us!
Our team of certified professionals can take care of your dog just like a family member. You will never have to worry about their nutrition, playtime, health, safety, or anything at all!
Our Dog Day School
Does your dog give you a hard time? Are you tired of their unmanageable and chaotic behavior? We can help alleviate this stress! Our comprehensive training programs can modify your dog's behavior and personality turning him into an obedient and friendly dog that you've always wished for.
Here's a quick look into our services:
An 1800 Sq. Foot State-Of-The-Art Facility
We provide a comfortable and exciting environment for your dogs where they can play around and flaunt their energetic side. And after a tiring day of play, they get to eat and nap to recharge for more fun activities!
100% Certified Trainers
Your dogs are looked after and trained by people that are professionally skilled in this field. They fully understand your dog's individual needs and provide them with services that suit them the best.
Comprehensive Training for Your Dogs At Dog Day Care Hillsborugh:
Dogs learn to play with others and improve their social skills.
The training helps curb destructive behaviors like excessive barking, digging and chewing.
Dogs enjoy a variety of exercises that are customized for their skill, temperament, and size.
Clients receive a detailed report every week on what the dogs learned along with homework and recommendations. This helps achieve success and confidence at both ends of the leash.
Reliable Shuttle Service
Don't want to go through the hassle of driving your pet? Let us do it for you!Our door-to-door shuttle service takes all the burden. We will safely transport your furry friends from your home to ours and then back again!
Shuttle Hours
Monday – Friday
7:00 am – 8:30 am

12:00 pm – 1:00 pm

4:30 pm – 6:30 pm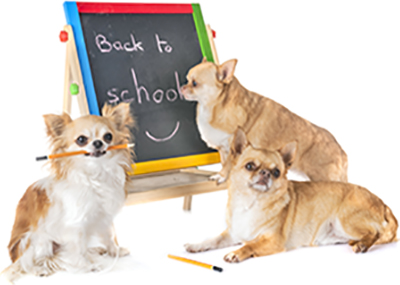 TUITION
Our office is closed on the following holidays:
Easter Day
July 4th
Thanksgiving Day
Christmas Day
New Year's Day
Day School is FREE with the price of boarding. Pick up must be before 9:00 am. If you pick up after 9:00 am additional charges will apply. Please refer to prices below.
½ Day School – $18 per dog

Full Day School – $35 per dog
($45 for an additional night of boarding)
Full Day School- $34 – 2 or more dogs
Schedule your dog's day school here. If you're new to Top Dog, you will need to register here first.
Dog of the month wins – 1 FREE day of school
Dog of the year wins – 1 FREE week of school and a Top Dog t-shirt
Every referral that uses our services= 1 FREE night of Boarding
DAY SCHOOL SCHEDULE
Monday-Friday
7:00-8:00 am drop off
4:00-7:00 pm pick up
FULL DAY
(5-8 HOURS)
1/2 DAY
(4 HOURS OR LESS)
Socialization- learns how to play nicely with other dogs their size and temperatment
yes
yes
Engages with trainers to learn basic manners in small group setting
yes
yes
Daily Report Card
yes
yes
Pictures Posted on Facebook
Price
$35
$18
We provide Grooming Services for
HILLSBOROUGH
We provide Grooming Services for
CHAPEL HILL
We provide Grooming Services for
DURHAM