It's Thanksgiving, what to do with your lovable, furry family member.
Thanksgiving is when many people express gratitude for the blessings in life. For many of us, even Top Dog employees, our pets are included in our thoughts of appreciation. Although you may consider your dog as a part of the family, there are many reasons why he/she should not join you at the dinner table for the traditional holiday feast.
It may be tempting to offer your pets special treats during the holiday, but fatty foods should definitely be avoided. Fatty foods can upset your pet's stomach and cause vomiting and diarrhea. In severe cases, it may even progress into something serious, requiring a hospital stay. "The more different the food is from your pet's regular diet, the more likely they will have digestive upset," Eckman said. "Vomiting and diarrhea secondary to table food ingestion are the most common reasons we see pets in the emergency room or veterinary hospital after the holidays."
Raw dessert batter is also unsafe for your pet this holiday. Be sure to keep Fido's nose out of the mixing bowl to prevent any consumption of eggs, which are sometimes contaminated with salmonella. If you are planning on making homemade bread, raw yeast bread dough can also pose a threat to your pet. If consumed, the yeast will continue to convert the sugars in the dough to carbon dioxide gas and alcohol, resulting in a bloated, drunken pet. This can be a life-threatening situation that can require hospitalization. Raisins and grapes, which can cause kidney damage, and chocolate, which can be fatal for dogs, should also be kept out of your pet's reach.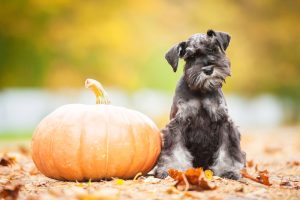 If you absolutely must provide a special holiday treat for your pet, there are safe options that will still leave Fido begging for more. Try sticking as close to your pet's normal diet as possible by offering them a bowl of their usual food mixed with lean, boneless and skinless pieces of turkey and a small amount of gravy. If you have fresh vegetables available, such as green beans or sweet potatoes, they will make an excellent addition to your pet's healthy Thanksgiving feast.
To ensure your pet's safety this Thanksgiving, be sure to keep them away from any harmful food products. In the spirit of the holiday season, your pet will be forever grateful for keeping them healthy during Thanksgiving dinner.
If needed, you may board your dog or take advantage of our doggy daycare service this holiday season. Call soon, our dog boarding services book fast, click here if you're a new member or click here if you're an existing member! Our kennels are clean and well maintained. Also, don't forget we offer grooming service as well. Need a little dog training, we can help! We do service Hillsborough, Chapel Hill and the Durham areas.
Turkey is often the main course of a Thanksgiving meal. If you decide to treat your pet to a piece of turkey, be sure it is boneless and thoroughly cooked to prevent salmonella poisoning. In addition, avoid letting your pet chew on any sort of leftover bones, as they can be problematic to the digestive tract.