Doggy Daycare
Has your canine companionship turned out to be the opposite of what you had initially expected?
Are you tired of your dog's destructive behavior? Do you often come home only to find that the place is a wreck, courtesy of your pet? Does your pooch refuse to follow your commands no matter how many times you may repeat them? Are you tired of your dog going bonkers whenever you have guests come over or take them out for a walk?
If you answered 'yes' to any of these questions, we understand your pain. And that's why we are here to help!
Come, Visit Top Dog and Resort
Our doggy daycare in Chapel Hill, NC, is an impressive state-of-the-art school for dogs where we groom, train, and transform your pooch, to help them grow more obedient and well-mannered.
Our Services at a Glance – Reasons to Visit Doggy Daycare
Run by dog lovers and for dog lovers, our doggy daycare and boarding house provides a safe training environment for your furry friend. Our mission is to help your dog be on their best behavior at all times so you can truly experience the inexplicable joy and happiness that comes with being a pup parent.
We offer specialized training courses tailored according to your dog's specific needs. This includes leash handling, search-and-rescue (SAR) schooling, strength training for sports dogs, manner-based training in general, and a lot more
Our center lets your pooch channel their energy into productive activities so that they hit the sack as soon as you go home. This saves you the need to entertain your dog after a long and tiring day at work
We help your pooch become more friendly and outgoing. Be it one-on-one schooling or group training, spending time at our daycare center allows your dog to improve their social skills
We do an effective job of teaching dogs how to interact properly with humans and pets alike. This, in turn, means that you can expect your pooch to be on their best behavior regardless of being on or off the leash
Whether your dog is a food lover or a somewhat picky eater, you can rely on us to keep them well fed throughout the day
Our boarding house provides overnight doggy daycare services so you can enjoy your time away from home knowing that your pet is well looked after
We welcome dogs of all kinds and sizes. Whether you have a young dog that's bubbling with energy or a senior dog that likes to stay huddled in a corner, rest assured they are going to have the time of their life here at Top Dog and Resort!
Doggy Daycare Policy – Pre-requisites for Successfully Enrolling Your Dog at the Daycare
Your dog must be at least 12 weeks old
Your dog must be current on vaccines including Rabies, Bordatella (Kennel Cough), and Distemper/Parvo (DHPP)
Bring a pack of your pet's favorite dog treats when visiting the daycare
Your dog must wear a fitted harness when attending the dog school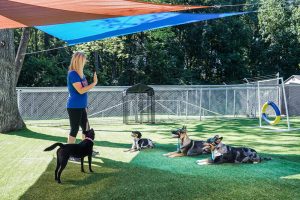 TUITION
Our office is closed on the following holidays:
Easter Day
July 4th
Thanksgiving Day
Christmas Day
New Year's Day
Day School is FREE with the price of boarding. Pick up must be before 9:00 am. If you pick up after 9:00 am additional charges will apply. Please refer to prices below.
½ Day School – $18 per dog

Full Day School – $35 per dog
($45 for an additional night of boarding)
Full Day School- $34 – 2 or more dogs
Schedule your dog's day school here. If you're new to Top Dog, you will need to register here first.
Dog of the month wins – 1 FREE day of school
Dog of the year wins – 1 FREE week of school and a Top Dog t-shirt
Every referral that uses our services= 1 FREE night of Boarding
DAY SCHOOL SCHEDULE
Monday-Friday
7:00-8:00 am drop off
4:00-7:00 pm pick up