What Does It Take to Be a Certified Dog Trainer?
Most pet owners decide to self-train their dogs. However, there is more to training than teaching obedience, and the seven basic, sit, stay, no, heel, come, down, and off commands. If you've ever wondered how to be a certified trainer, then you've come to the right place.
There are various training techniques designed to prepare your dogs for different purposes. There are three steps to becoming a certified dog trainer.
1. Education
The essence of dog training lies in the understanding of dog psychology and behavioral patterns. Various schools offer courses on the science of animal behavior. Look for schools that have been in the field for long and whose courses are scientifically sound. You are essentially signing up to be a dog's psychiatrist. We train 9 Basic Commands: Sit, Down, Stay with distractions, Come, Heel with an automatic sit, Leave it, Drop it, Place Off, and a verbal reprimand "Uhh Ahh".
2. Experience
The next step is to get as much experience as possible. Many pet shops hire trainers, and so do official pet training institutes. By gaining professional work experience, you further enhance your knowledge and learn how to tackle even the most difficult of dogs. The more experience you earn, the more expertise you develop, which increases your chances of getting a certification.
3. Certification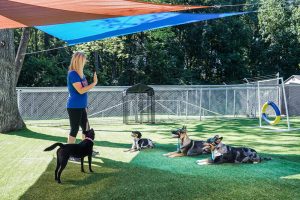 You don't necessarily have to be certified to be counted as a trainer, but it does help boost your resume, especially when backed by experience. We are balance trainers at Top Dog. We correct behaviors we do not want and we reward behaviors we do want. Each of our trainers is certified through the NC Community College System at Tarheel Canine School for Dog Trainers. We acquired hands-on experience with all types of temperaments and behavior issues, including aggressive dogs. We participated in lectures on the scientific basis of our training methods. We gained experience in training police dogs, SAR dogs, professional pet obedience, and behavior modification. We had to complete a detailed exam combined with definitions, essays, and evaluations of hands-on experience before we graduated and from the program and earned our certifications. We believe in bonding with the dog by creating a job they enjoy. Whether it's a game of sit and stay before he plays fetch or putting his nose to work with SAR or searching games. Other dogs love to go for a walk and then snuggle on the couch while watching Netflix. We do NOT judge a book by its cover! Instead, we read the dog's story so we understand what the dog needs. Every dog learns differently, so we teach in a way the dog can learn.